Hot June Colorado Wine & Food Events!
If you are a wine and food enthusiast, this month has a lot of deliciousness to offer!
For those visiting Aspen, Colorado this week, there are lots of alternatives to the lofty ($1,400 per person) and sold-our Food & Wine Classic. During this week there will be many other trade & consumer events taking place in hotel suites and alongside hotel pools and event spaces throughout Aspen and nearby Snowmass.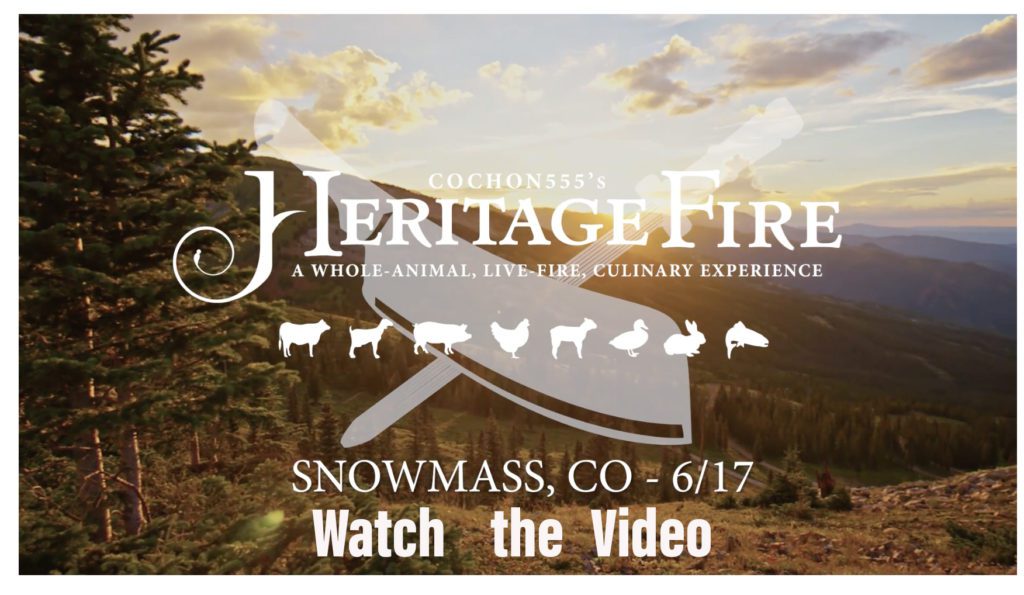 Cochon 555 Heritage Fire-Snowmass/Aspen
Produced by the same folks that put in Cochon555 events, Heritage Fire is like a hedonistic journey back in time when our ancestors cooked their animals on spits outdoors to celebrate life and feed the clan some really great grub!
Unlike its sister event Cochon555, Heritage Fire allows participating chefs to showcase anything they want to cook. So it is not uncommon to see a chef slow roasting a sturgeon right next to a sturgeon.
The fire-fed feast is led by chefs paired with responsibly-raised animals rubbed head-to-toe with salt, spices and ancestral cooking methods. The list of salt and oil-rubbed options at Heritage Fire include sustainably-raised pigs, lambs, goats, fish, rabbit, duck, chicken, dry-aged beef and locally grown heirloom vegetables. Chefs, farmers, pastry chefs and butchers take a romantic approach to imparting a crispy finish from an arsenal of various live fire formats. Inspired by global food cultures, more than 100 prominent chefs, farmers, sommeliers, distillers, and barkeeps will work in concert to create delicious moments of delight.
Participating chefs at the country's most epic day-long cookout include Steve Redzikowski of Acorn (Denver), Shota Nakajima of Adana (Seattle), Manabu 'Hori' Horiuchi of Kata Robata (Houston), Jean-Philippe Gaston of Izakaya (Houston), Joshua Pollack of Rosenberg's (Denver), Bill Miner of il Porcellino (Denver), Jim Butchart and Andrew Helsley of Aspen Skiing Co., Hosea Rosenberg and Nate Singer of Blackbelly (Denver), Daniel Asher of River & Woods (Denver), Kelly Whitaker of Basta (Denver),  Jason Harrison of Red Maple Catering (Vail), Alberto Figueroa of Viceroy Snowmass, Adam Vero of Hearth & Dram (Denver), Oscar Padilla of Tamayo (Denver), Eddy Chimal of Venga Venga (Snowmass), Will Nolan of Madeline Hotel (Telluride), Kyle Wilkins of Home Team BBQ (Aspen), Peter Jacobsen of Team Toast (Napa), Jason DeBacker of The Edge (Snowmass), Linda Hampsten Fox of The Bindery (Denver), Felix Florez of Cherry Block (Houston), Matt Lovelace and Greg Lowry of Bon Appétit (Houston), and to end on a sweet note, Christopher Mosera of AikoPops (Denver) and Rebecca Masson of Fluff Bakery (Houston) will dish up dessert. In addition to the meat-laden feast, the event also features a Pop-Up Butcher Demo and Silent Auction with celebrated butchers Kate Kavanaugh and Josh Curtiss of Western Daughters (Denver). Participating farmers include Jason Smith of Rock Bottom Ranch, Jeff Bauman of McDonald Family Farm, Felix Florez of Black Hill Meats and the teams behind Carter Country Beef, Farm Runners, Shady Acres, Niceland Seafood and Seattle Fish.
Beyond the 100+ chef created dishes, the food is paired with free-flowing wines from boutique producers, stunning spirits, craft beers, and artisan ciders. Guests will also enjoy hand-crafted cocktails and spirit tastings from Breckenridge Distillery, Courvoisier and El Tesoro Tequila, Woodford Reserve, Buffalo Trace, Eagle Rare, Don Q Rum and more. Wine enthusiasts will sip Wines of Rioja, Chateau D'Esclans, Wines of Germany, Antica Napa Valley, Blanchard Family Wines, Azzurro Wine Company, Silver Oak, Kosta Browne, Pax Wine Cellars, Sandhi, and Twomey Cellars.
Cochon 555 Heritage Fire-Snowmass/Aspen
Base Village – Snowmass, Colorado, Saturday, June 16, 2018
3 p.m. for VIP entry $200, 4 p.m. for General Admission at $150
Buy Tickets: http://cochon555.com/us-tour/2018-heritagefiresnowmass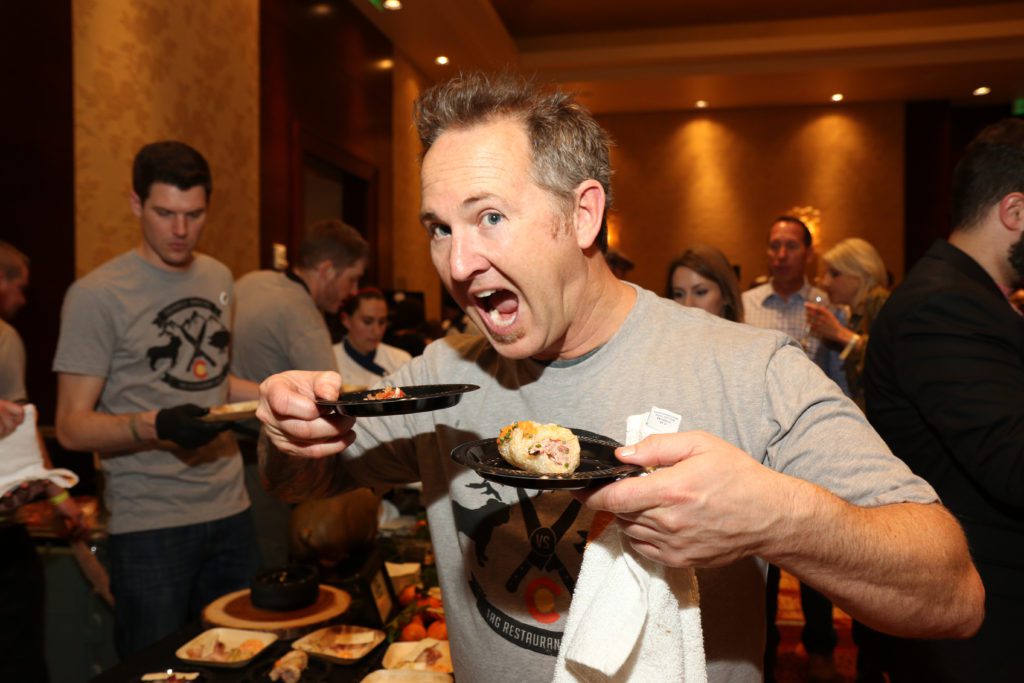 Cochon 555 Denver– Epic Culinary Competition-
Sunday June 24, 2018-Editors Choice!
Renaissance Hotel, Stapleton, Denver, CO
Cochon555 is all about amazing supporting/ celebrating Heritage Pork and delicious beverages! If you like Iron Chef and Andrew Zimmern's Bizarre Foods, you will love Cochon555.
This national (now International) series is returning to Denver on Sunday, June 24th. Cochon555 used to stand for 5 chefs, 5 winemakers, 5 pigs, but nowadays it is transformed into lot more over the past few years.
Over the year's we have attended this jaw-dropping, mouthwatering live event annually in Denver and in Aspen. They stepped up their game cram packing in other mini competitions and enhancing their live and silent auction items to include bucket list boozy and foodie items that generate enthusiastic bids from the boozed up, blissful attendees. If you are lucky, you might win a bid for a recently butchered pork shoulder or slab of pork belly.
This live event supports Heritage Pigs and plays host to some prominent local and out of town chefs, farmers, sommeliers, vintners, distillers, brewers, and barkeeps all working in concert to create luxurious moments at this stand-up, all-inclusive bacchanal celebration of tasty heritage breed pork. VIP 4pm, GA 5pm,tickets $130 to $200. Watch Video/ Purchase Tickets Here: http://cochon555.com/us-tour/2018-denver/