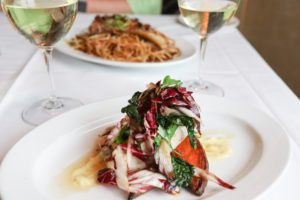 Darcy and I had the pleasure of visiting Emeril's flagship restaurant in New Orleans for lunch this summer, where Emeril made his bones after his epic eight-year stint at Commander's Palace. It is hard to imagine this restaurant's rich history as the launch pad for the many milestones that occurred thereafter: the television shows, cookbooks, seasonings and a chain of restaurants in New Orleans, Las Vegas, Florida and Pennsylvania.
The restaurant is located about ten minutes away by Uber from Bourbon Street in the Warehouse District. Emeril's restaurant has been a top foodie destination for over 26 years. The space is warm and spacious with elegant details and wine is a big focus, with floor-to-ceiling wine refrigerators displaying top bottles in clear view.
We decided to sample a selection of dishes from the lunch menu:
BBQ Shrimp

Lobster Skewers

Cajun Caviar

Seafood Gumbo with Andouille sausage

Andouille-Crusted Drum
We ordered a bottle of Chablis to pair with the dishes. The massive 67-page wine list has 6 pages dedicated to white Burgundies!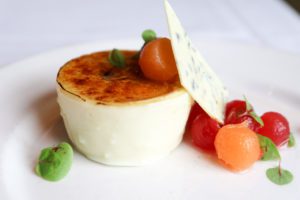 It was no surprise that these dishes created by the king of "Bam!" would be so packed with flavors and perfectly cooked. The Cajun Caviar was a really unique dish — Emeril's reinterpretation of a Cobb Salad. Emeril's contained spicy lobster caviar on top of finely chopped beets dusted with dry ghost peppers. The textures and lingering heat were an amazing combination!
After lunch, we had the pleasure of sitting down with Sommelier Ray Gumpert, a long time Emeril employee who has a major influence over Emeril Restaurant's wine program. Emeril's flagship restaurant has 20,000 bottles to choose from. We brought up the white Burgundy section of his wine list.
"Our food needs wine that has power and acid. The white Burgundies are frequent customer favorites!" remarked Gumpert.
To our surprise, Ray broke out a few special bottles he has personally selected for Emeril's wine program.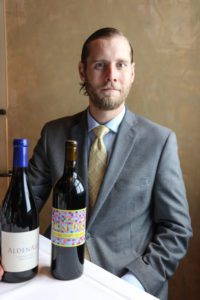 AldenAlli Pinot Noir is a joint wine project between the Lagasse and Kosta families. Dan Kosta of Kosta Browne fame is a longtime fan of Burgundy wines. Over the past twenty years, Kosta Browne has enjoyed enormous success as one of the leading producers of Pinot Noir in California.
AldenAlli is named after Emeril's and Dan's wives, Alden Legasse and Allison ("Alli") Kosta.
AldenAlli 2013 Sonoma Coast Pinot Noir, $80 Restaurant Price, 4.5 Stars!
This wine is aged in 40% new French/60% neutral French oak for 10 months.
Deep garnet with hints of cranberries, star anise, and dark cherries. This wine has Dan Kosta's thumbprint all over it! A perfect food wine for pairing with Emeril's cuisine! Limited availability at http://www.aldenalli.com/
Another collaborative wine between Ray Gumpert and Seamus Wines is the 2013 Hoj-Poj Sonoma Red, $40 Restaurant, 4.5 stars. It pays homage to Emeril's Portuguese roots and is a blend of Touriga Nacional 65%, Tinto Cao 21% and Tinta Roriz 14%. It is a fun wine that sells at the restaurant for $40 a bottle. "I like selling it at the restaurant because it makes people smile"!
Emeril's is a must for any food and wine lover. The food portions are generous and the wines and cocktails are well thought out to make your dining experience sensational.
Emeril's Restaurant – 5 Stars!
800 Tchoupitoulas St.
New Orleans, LA 70130
PH: 504 528 9393