By the editors, tasting notes curated by Elizabeth Woesnner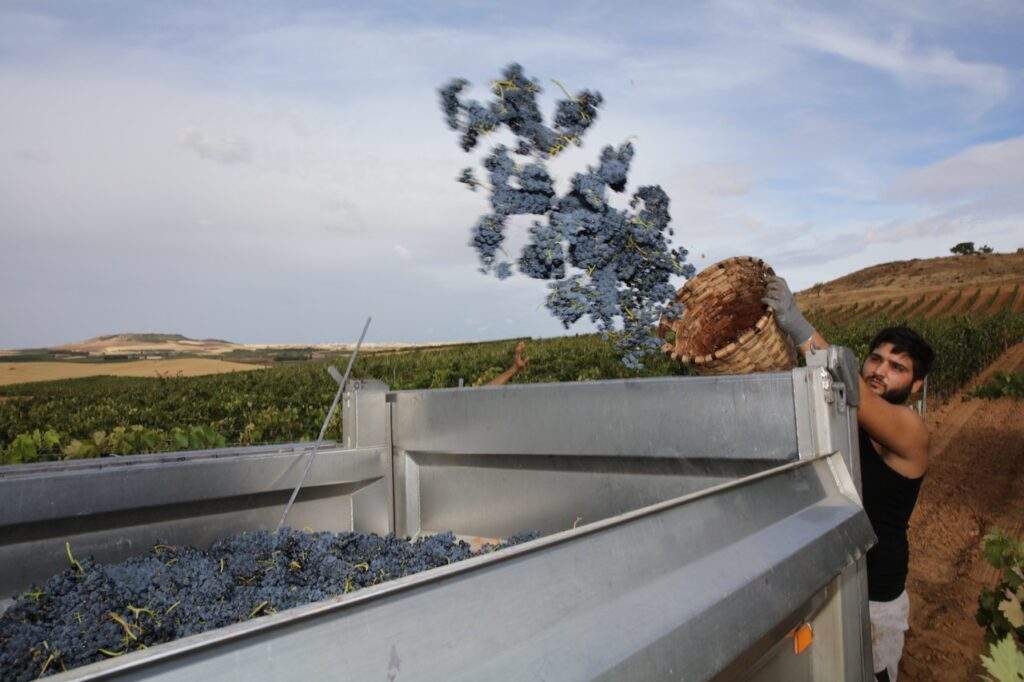 Our founders traveled to Spain in September 2022 to capture the wine harvest. They visited Ribera del Douro wine producers over five days. Using their 5-point (1-5 glasses), they invited producers to send sample bottles of the best wines they tasted (5 out of 5) so that Wine Country International ® Magazine editors could taste the wines blind and produce the tasting notes below.
Only some producers were able to ship us samples. So, our feature story will include a list of every wine we tasted in Spain with our scores.
WCI Blind Tasting of Ribera del Duero wines- December 2022.
White Wines
Valduero Criado Sobre Lias 2021 $25-30
Valduero Blanco is made from 100% Albillo. Vineyard is 15 years old.
Pale straw color. Acacia flowers, lemon candy, and herbal notes of thyme and sage lead to flavors of Golden Delicious apples, delicate botanicals, and a long, acidic finish. Forty-two thousand bottles were made.
Comenge Don Miguel Comenge 2017 $65.99
It was made from 100% Albillo Mayor Grapes sourced from a small vineyard that was planted in 1921. 
With a bright, slightly golden hue, this 100% Albillo has a subtle minerally nose of mint and lemon zest. The palate is smooth with intense flavors of honeyed fruit and dried apricot with a long flinty finish. Only one thousand five hundred bottles were made. 
Dominio de Atauta Albillo del Duero 2021 $ 35-40
Straw color. Aged in old, used 600 L barrels. Made from 100% Albillo Mayor.
Pronounced aromas of quince paste, stone fruits, and marzipan give way to a full-bodied wine with hints of menthol, thyme, and almonds, all balanced by its vibrant acidity—old-word finesse.
Red Wines
Valduero Reserva Premium 2014 $90-100
Made from 100% Tempranillo grown on over forty years old vines. Aged for 36 months in barrels, aged for an additional 36 months in bottles.
This wine has a dazzling nose of citrus, vanilla, blueberries, and coconut, giving way to a palate of leather, dark cherries, and tannins, suggesting it will age well.
Tinto Figuero 15 Reserva 2018 $39-49
100% Tempranillo-La Horra y Roa plots that were planted from 1910-1965.
Aged for 15 months in new American (40%) & French (60%) Barrels.
Deep cherry color. An intense bouquet of violets, tomato leaf, and ripe plums leads to a palate of leather, spice, and black pepper that lingers on the tongue.
Pago De Los Capellanes Parcela El Nogal 2018 Cosecha $80
100% Tempranillo sourced from El Nogal vineyards, 2,800 feet altitude.
Aged for 22 months in fine-grain French oak barrels.
Ruby color. Strawberry jam, roses, and sweet cherries burst from the nose of this wine, which has a tannic palate of green peppers and leather with a long, memorable finish.
Bottles: Nineteen thousand, nine hundred and fifty bottles made.
Pradorey La Mina 2018 $30
100% Estate Grown Tempranillo
It was aged for 16 months in French Oak, 12 months in the bottle.
This vibrant cherry-red wine has a complex nose of stewed dark fruits, prunes, and sawdust. The tannic palate of baked blackberries has a long, intense finish.
Bottles: Forty-two thousand bottles were produced.
Condado De Haza Crianza 2019 $24.99
100% Tempranillo sourced from 30-year-old vines, at 2,600-foot elevation.
Black cherry color. The intense aromatics of red and black berries and hints of vanilla and licorice give way to flavors of vanilla and baking spice on the palate, leading to a long, tannic finish.
Tinto Figuero 12 Crianza 2019 $29 to 35
100% Tempranillo- La Horra y Roa plots that were planted from 1965 to 1995.
Intense purple color. Aromas of black pepper, tomato leaf, and tar combine with flavors of ripe plums and stewed blackberries in this wine, which has a long, tannic finish.
Two hundred and forty thousand bottles were made.
Pradorey Elite 2019 Cosecha $45
100% Tempranillo from clone 120. Sourced from vineyards at a 2,700-foot altitude.
Aged for 14 months in French Oak Barrels. Malolactic fermentation.
Savory aromas of ripe dark fruit and smoked tobacco match opaque Violet with a deep blue-red hue. On the palate, it is a full-bodied red with well-integrated, powerful tannins that lead to a long finish.
Bottles: Thirteen thousand, one hundred and sixty-four bottles made.
Vina Mayor Roble 2020 $15
100% Barrel aged Tempranillo (Tinto Roble)
Deep ruby color. This lighter-bodied Tempranillo has vegetal aromas that merge with bright red currants. On the palate, it is fresh and juicy with moderate tannins.
Bottles: Seven Hundred Thousand bottles made.
MXI 2020 Tinto Pesquera SL Cosecha 2020 $30
100% Tempranillo, sourced from a vineyard at 2,950 feet.
Dark ruby color. An explosion of floral aromas gives way to flavors of ripe red plums and blueberries in this wine, which has elegantly integrated tannins that lead to a long, soft finish.
Dominio de Atauta Valdegatiles 2014 $110.
They are sourced from the Valdegatiles single terroir vineyard, with pre-phylloxera 140-year-old vines. 100% Tinto Fino. It was aged for 18 months (40% New French Oak, 60% Semi-New French Oak).
Inky purple with powerful aromas of ripe plums, dark cherries, ad blackberries. The palate is intense and muscular, with layers of black pepper, leather, and tobacco. All the while, the wine remains elegant, displaying a long tannic finish.
Bottles: One thousand, one hundred, twenty-nine bottles made.
Comenge Don Miguel Comenge 2017 $65.99
A blend of (90%) Organic Tempranillo and (10%) Organic Cabernet Sauvignon. 
It was aged for 22 months in new French oak barrels. 
A profound and complex nose of ripe plums, cassis, prunes, and licorice opens to a smooth, velvety mouthfeel with flavors of ripe blackberries and cherries balanced by an earthy, earthy, peppery, savory finish. This wine will stand the test of time.
Bottles: Thirteen thousand, three hundred forty-five bottles made. 
Bosque de Matasnos Edicion Limitada 2018 $45
100% Tempranillo grown at high altitude, 3,110 from old vines planted in 1920.
The intense cherry red color and elegant aromas of ripe plums, dark cherries, smoke, and cocoa. Flavors of ripe black fruit, tobacco leaf, and forest floor give way to a long and structured finish. The silky mouthfeel comes from the 10% merlot blended with the Tempranillo.
Bottles: Thirty thousand bottles made.
Comenge Familia Comenge 2018 $39.99
100% Organic Pago de los ismas Tempranillo variety, sourced from a thirty-year-old vineyard at 2,880 feet elevation from sea level. 
Intense and spicy aromas of ripe figs, black pepper, licorice, and black plum introduce this full-bodied complex wine with cedar, vanilla, chocolate, tobacco, and ripe blueberry flavors. The finish is long and silky, leaving you wanting more.
Bottles: Forty-three thousand, seven hundred, thirty-eight (750 ml) and one thousand, two hundred, ninety-six (magnum) bottles produced. 
Bodegas Portia Prima 2019 $40
100% Tempranillo. Aged for 14 months in oak.
This profoundly hued wine hits yum with black cherry and dark berries with dark plums, vanilla, and mocha flavors with a soft, velvety finish. 
Bodegas Portia Summa Edicion Limited 2019 $90
100% Tempranillo grapes from Portia's select blocks of 100-year-old vines. 
This blockbuster tempranillo sings with dark plums, dark chocolate, and vanilla aromas. It is followed at the palate by hints of cinnamon, clove, and a long tannic finish that indicates the potential longevity of this wine. Aged in 400-liter, new French oak barrels for 18 months. 
Melida Wines Eternauta 2020 $65
100% Tempranillo picked as a whole cluster from an 80-year-old vineyard.
This up-and-coming, small producer has knocked it out of the park!
This zippy red wine provides aromas of fresh red cherries, white pepper, and thyme with a super smooth palate of blueberries, mint, tobacco, hints of baking spice, and nutmeg. Full mouth, juicy red fruit with a long finish. Deep purple color.