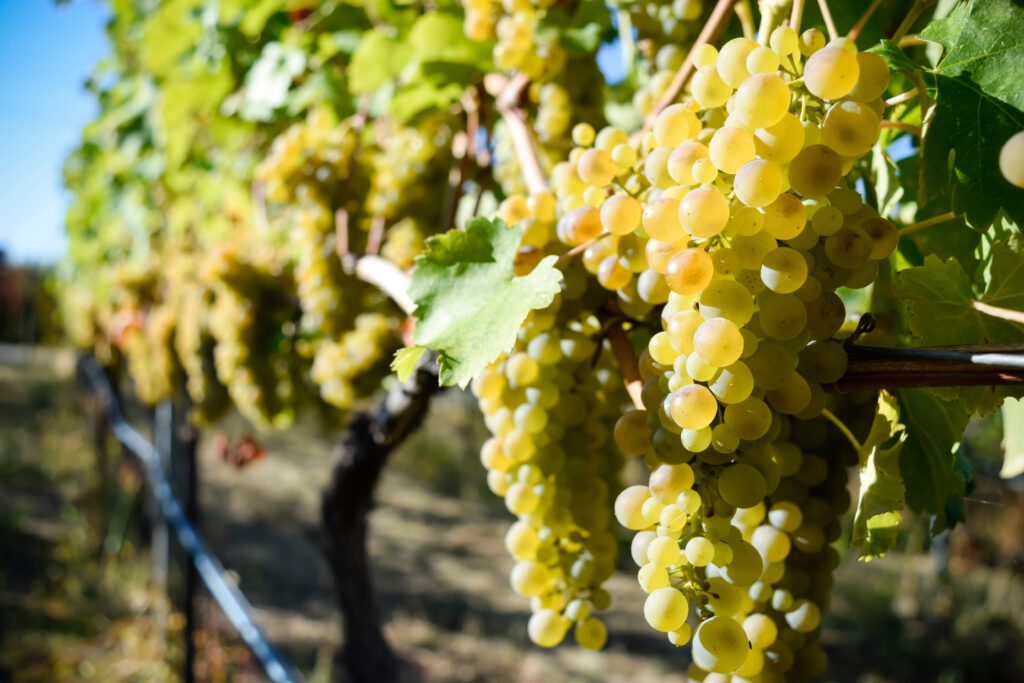 I love a good comeback story and I always root for the underdog, so it should be no surprise that I, like many others, am enamored with Viognier (pronounced vee-ohn-yay). This seductive white grape has a complicated history and almost became extinct, but it has bounced back and become a favorite amongst winemakers. It is challenging to grow and even harder to craft into a well-balanced wine. Hard work pays off, creating a beguiling and enchanting wine with intense aromas of honeysuckle, peaches, and tangerine. Usually made as a single-varietal, Viognier also plays well with others, and this exceptional grape can enhance some of the world's most extraordinary blends.
Viognier was born in Condrieu and still thrives in the Northern Rhone region of France, where it is the only grape variety permitted for that appellation. The smaller appellation of Chateau Grillet, which sits within Condrieu, arguably produces the most outstanding Viognier wines ever made. But the Viognier story was no fairy tale; by the 1960s, this once-thriving grape had become all but extinct. Demand had dropped, and the grape itself was hard to maintain on the steep slopes of the Rhone River. With the help of some forward-thinking winemakers worldwide, Viognier now flourishes once again in the Northern Rhone and southern France. It has also found its way to the new world in South Africa, Australia, Washington State, Virginia, and California.
Viognier thrives in climates with long warm growing seasons to allow the grape time to ripen, moderated by cool nights or breezes to maintain its precious acidity. It takes a great deal of time and dedication to successfully nurture Viognier, as it is unpredictable, prone to disease, and susceptible to spring frosts. This finicky little grape is unlike most white grape varieties because of its low acidity and thick skins that create natural tannins in the wine. Maintaining the grape's precious acidity and tropical fruit flavors takes a deft hand. A skillful winemaker can transform Viognier into exquisite wines ranging from dry, crisp aperitifs to unctuously sweet, botrytis-kissed dessert wines.
Like most aromatic white wines, Viognier pairs well with moderately spicy dishes, such as Pad Thai. It can easily match the fattiness of grilled salmon or seafood in cream sauce. The classic Viognier pairing is shellfish in any form; beware of any dish with too much acid as it will overwhelm the moderate acidity in the wine. I love to pair Viognier with one of my favorite classic Jacques Pépin recipes, "Scallops in Scallion Nests." The sweet brown crust on the scallops, the oniony punch from the scallions, and the tangy mustard sauce combine beautifully to enhance the wine's creaminess and fruit flavors.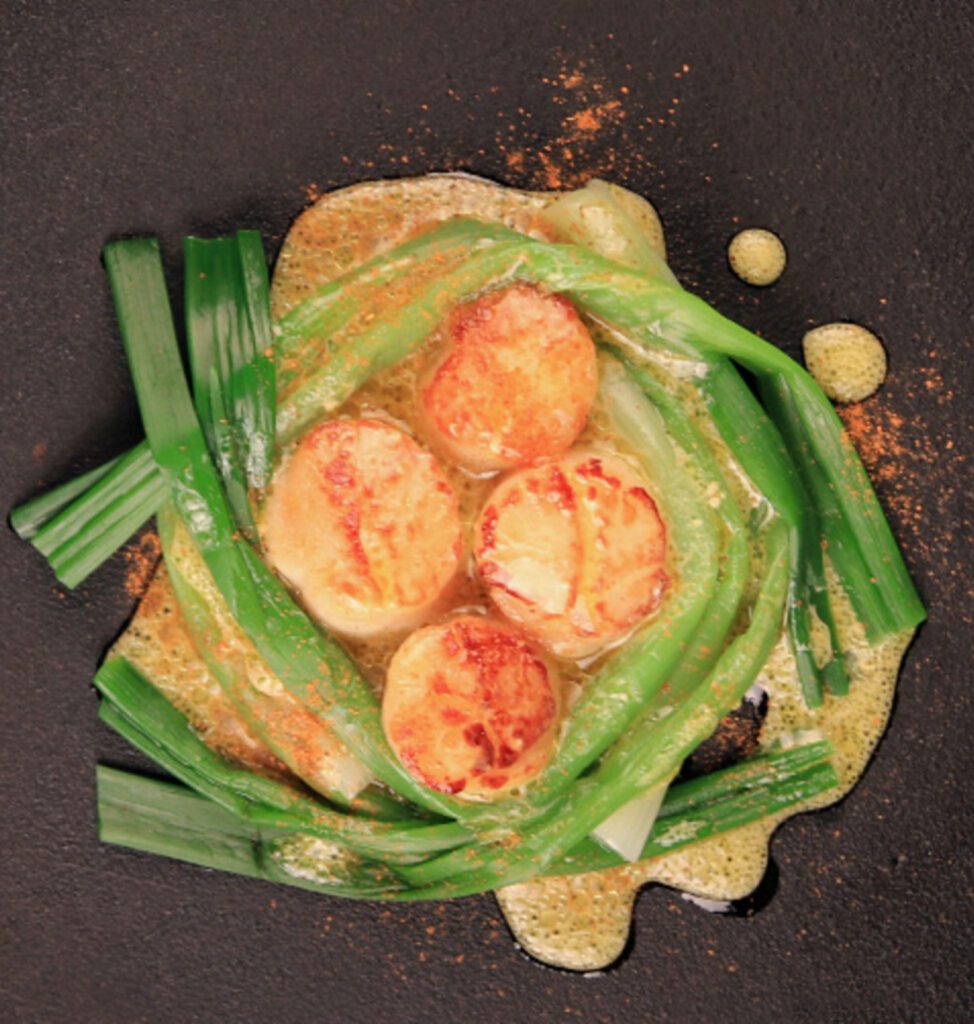 Scallops In Scallion Nests  
Essential Pépin
(With permission from Chef Jacques Pépin)
Serves 4 as a first course
4 bunches of small scallions (6 – 8 scallions per bunch)
1 cup water
Sauce
1 tablespoon Dijon mustard
1 tablespoon red wine vinegar
¼ cup extra virgin olive oil
¼ teaspoon salt
2 tsp reserved scallion cooking juices (from above)
12 very large scallops (about 1lb), washed, tough muscles removed and
patted dry
2 teaspoon olive oil
½ teaspoon paprika
For the scallions: Cut off and discard the root ends of the scallions and about
2 inches of the green ends, as well as any damaged leaves. Wash the
scallions thoroughly.
Bring the water to a boil in a large stainless-steel saucepan. Add the scallions, cover, and boil over high heat for 3 to 4 minutes, until tender. Remove the scallions with a slotted spoon and place them on a tray to cool. Reserve 2 teaspoons of the cooking juices for the mustard sauce.
When scallions are cool, cover them with plastic wrap and refrigerate until serving time.
For the sauce: Combine all the ingredients in a small bowl and mix with a spoon. (Do not worry if the ingredients separate).
For the scallops: Put the scallops in a bowl and mix in the olive oil.
Heat a large, heavy skillet, preferably cast iron or aluminum, until very hot, at least 5 – 6 minutes. Add the scallops and brown for about 1 minute on each side. Set them aside to continue to cook in their own residual heat while you prepare the plates.
Reheat the scallions in a microwave oven for 20 to 30 seconds (or reheat in a pan of boiling water), just long enough to take the chill off. Arrange them on four plates, twisting them to form a circle or "nest." Place 3 scallops in the center of the nest and coat with mustard sauce. Sprinkle the paprika on top and serve.