I first visited the Brown Palace Hotel and Spa in 2003 for an afternoon meeting with 10th generation Austrian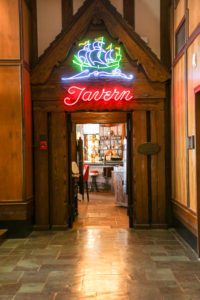 Glass Master Georg Riedel in the Churchill Bar. There Georg had a sommelier decanting a terrific bottle of 1992 Clos des Lambrays Pinot Noir from Burgundy ($650). I learned that Georg was a frequent guest at the Brown Palace, passing through Denver quarterly on his way to conduct Riedel Glass tasting seminars in Vail and Aspen. The Churchill Bar is the Denver business dealmaker's favorite hangout with a terrific stock of whiskey and cigars and is one of the last places a gentleman or woman can smoke a stogie indoors.
Over the past 15 years, I have attended numerous wine and food receptions at the Brown Palace. One of the most spectacular annual events is the Champagne Cascade Ceremony held every November. Now in its 30th year, the event kicks off the holiday season. More than 6,000 champagne glasses are assembled in a Christmas tree-like fashion. Champagne is poured into the glass two stories high and cascades down into the other Champagne glasses below. It must be nerving racking on the staff to balance that many glasses without having an accident. But to add to the drama of the afternoon a professional master saber will conduct a sabering demonstration to sever off the bottlenecks of Moët & Chandon Champagne bottles.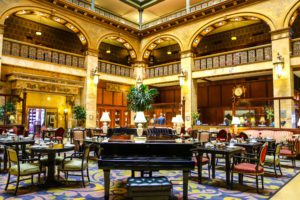 The Brown Palace Hotel and Spa recently celebrated its 125th anniversary in glorious style and has invested more than $10 million into renovations. The hotel has 241 guest rooms, including three presidential suites and The Beatles suite. Yes, the Fab Four and many other rock stars and presidents have stayed here! Room rates range from $199 to $500 and suites from $500 to $1,600 per night. The hotel has enjoyed a Forbes Four Star and a Mobil Four-Star rating as well as AAA's Four Diamond rating for more than 30 consecutive years. Colorado Springs has the Opulent Broadmoor, but in the city of Denver, The Brown Palace is the crème de la crème of luxury resorts.
The spectacular triangle-shaped building exterior juts out in Denver's skyline like New York's Flatiron Building. When you enter the lobby for the first time it is hard to take in all of the contents of its substantial 8-story atrium with a stained glass ceiling.
A lot of terrific additions and new programs have been added this year, including the new Executive Chef Timothy Ralphs, a seasoned fine dining chef with culinary experience in Europe, Asia, and California. Chef Ralphs had a career milestone when he was invited to cook a dinner at the James Beard House in 2014, and he is already having a positive impact on the hotel's culinary offerings. Together with recently-hired Food and Beverage Director Udit Dang, the pair is elevating the culinary and beverage offerings to new heights. Udit is working with his sommeliers to maintain a collection of fine wines to celebrate every occasion.
Some of the top bottles include:
Domaine de la Romanee Conti
Corton, 2010
Échezeaux, 2011
Échezeaux, 2012
Château Petrus, 1985
Château Cheval Blanc, 1998
Château Figeac, ler Grand Cru Classé, 1995
Château Cos d'Estournel Deuxieme Cru, 1982
Château Cos d'Estournel Deuxieme Cru, 1995
Director of Marketing and Sales, Mark Shine, pioneered some unique partnerships with local distillery Stranahan's and the Strange Craft Beer Company to create customized products to celebrate the 125th anniversary. Stranahan's distiller Rob created special edition whiskey using water from the Brown Palace artesian well water.  Strange Craft Beer Company has made a limited edition beer using homemade honey that is produced at the hotel's rooftop beehives.
The Brown Palace Hotel and Spa offers seven dining options (including in-room-dining) – Palace Arms, Ellyngton's, Ship Tavern and Churchill's, plus a lobby coffee shop, and afternoon tea and cocktail service in the lobby atrium. If you are staying over a weekend, don't miss their world-famous Champagne Sunday Brunch at Ellyngton's. It features a colossal amount of food plus several tiers of Champagnes and Sparkling Wines.
Brunch Cost: $54 per person (plus tax & tip)
Champagne Brunch Tiers:
Dom Perignon ($315 extra per bottle)
Domaine Chandon ($10 per person)
Moët & Chandon ($20 per person)
Brunch sans Champagne
See the full menu here:
https://df5ip8ns34i1i.cloudfront.net/brownpalace.com-3811616675/cms/pressroom/ellyngtons_brunch_menu.pdf
With all of the fantastic food and beverages, you will need to consider visiting the health club facilities or take a quick jog over to the State Capital Building.
The Spa Facilities are also not to be missed. The Brown Palace Spa is two stories high and may be accessed from the main lobby. It features a private couples suite with a dual reclining hydrotherapy tub; six massage and skin treatment rooms; separate men's and women's locker rooms with relaxation areas; Swiss showers; steam rooms with aromatherapy; and a nail and hair salon.
Brown Palace Hotel & Spa
321 17th St
Denver, CO 80202
Tel. (303) 297-3111