Story by Christopher J. Davies
Photos by KinoAlyse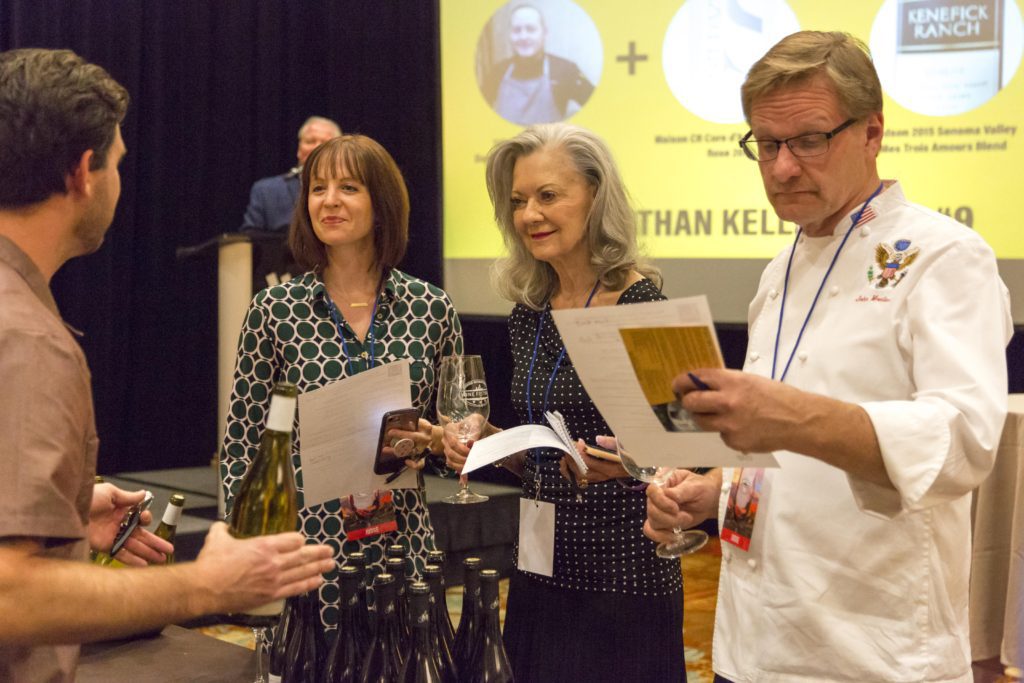 On Thursday, November 1, 2018, Ten Chefs from nine restaurants competed in one of America's most challenging wine and food pairing contests. They received notification of their assignments less than ten days before the actual competition date.
All of the wines were top winners from the Denver International Wine Competition. From a guests perspective, the night promised to showcase amazing wines with over the top food pairings.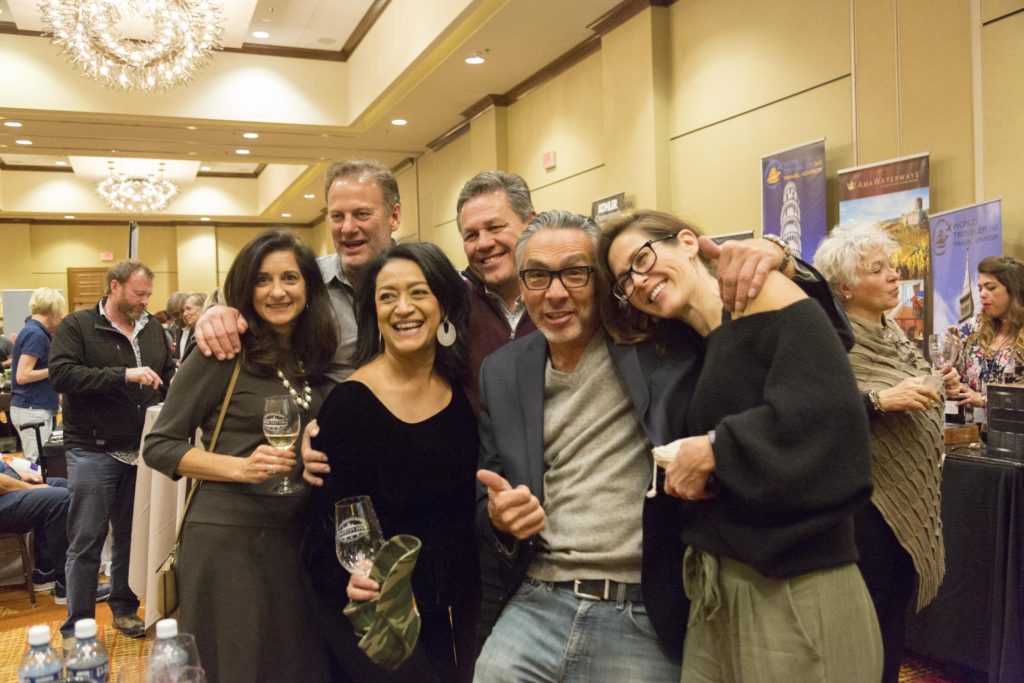 The rules of the contest are based on presentation; quality of ingredients and how well the food pairs with the wine. Every attendee is handed a logo wine glass and voting sheet at arrival. For two hours they stroll from chef station to station to savor the food pairings with their assigned wine.
This year's professional judges include Denise Mickelsen, Food Editor for Denver's 5280 Magazine, John Moeller, Former Whitehouse Chef, and author and Teresa Farney, Food Editor for the Gazette. These judges were tasked with the difficult job of selecting who they felt was the "Best Chef" and " Most Creative Chef." All attendees voted for the "People's Choice Chef."
2018 Winners: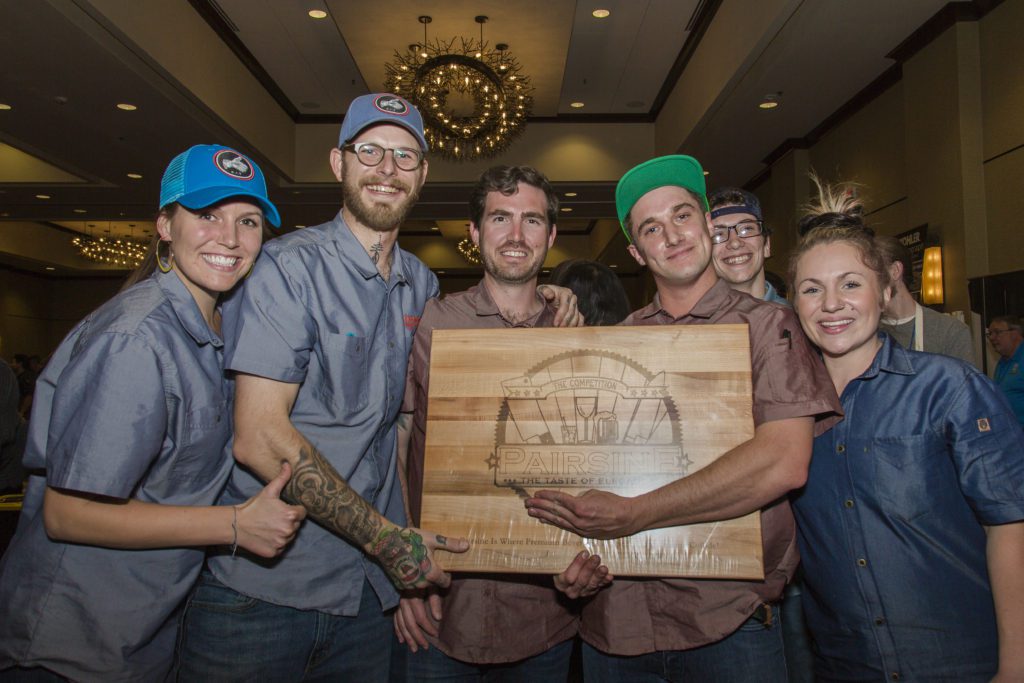 "2018 People's Choice Chef"
Gray Tattershall, Executive Chef
Community, Lafayette, Colorado
"2018 Judges Choice "Best Chef."
Danny Vacca, Sous Chef
Mercantile dining & provision, Denver, Colorado
"2018 Judges Choice "Most Creative Chef."
Zuri Resendiz, Executive Sous Chef
Cattivella Wood Fired Italian, Denver, Colorado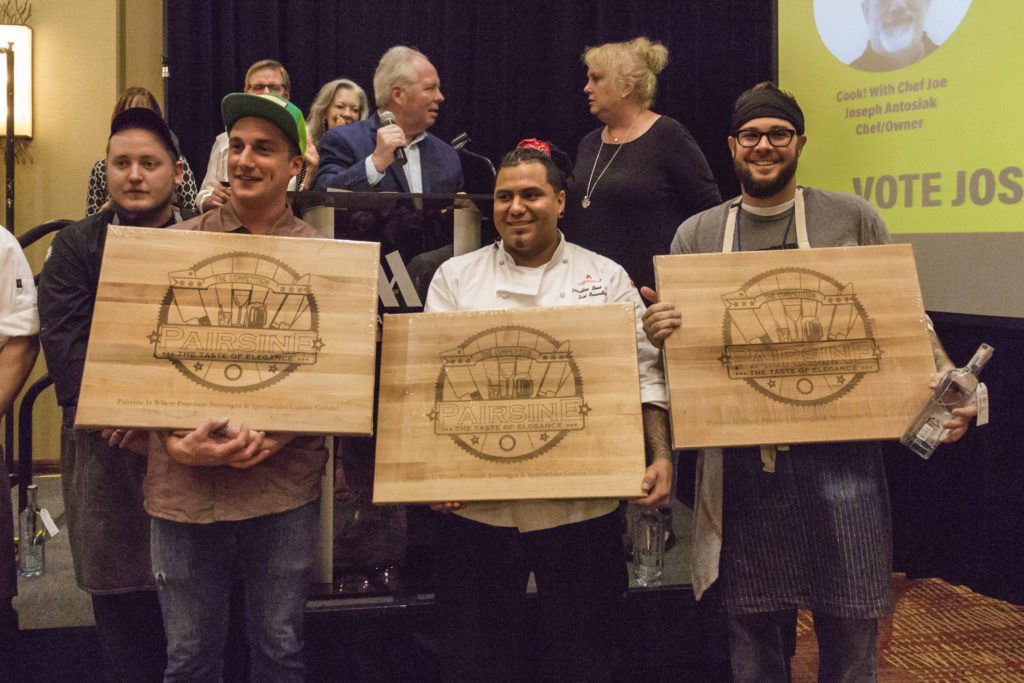 All three winners were presented with custom engraved Boos Block Cutting Boards. The People's Choice winner also received two roundtrip direct airline tickets from Denver to Grand Cayman on Cayman Airways.
This was the thirteenth annual Pairsine Chefs Fine Food and Wine Pairing Competition and probably the toughest one to win! In my opinion, judging by these pairing menus, all of the chefs were winners!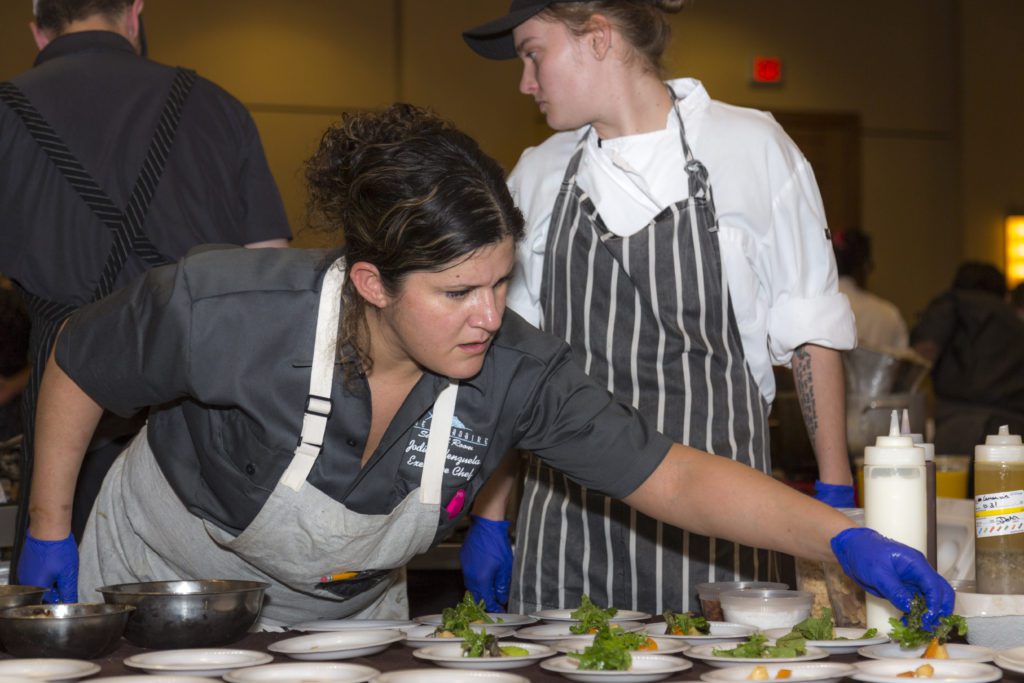 2018 Pairsine Menus:
Cameron Baker
Sous Chef
Fruition Restaurant, Denver
Pate De Champagne, Fig, Pickled Mustard Seed and Pickled Shallot
Paired with Blair Estate Pinot Noir 2014
"Roast Beef" Carpaccio, Peppernata, Horseradish
Paired with Kenefick Ranch Winery Merlot 2015
---
Fabian Ludwig
Executive Chef
Gaylord Rockies Resort & Convention Center
Slow Braised Beef Short Rib| Mushroom
Crisp Autumn Greens
Paired with HH Estates Robert Andrews Mourvedre 2014
---
Alex Priolo
Sous Chef
Blue Moon Brewery, Denver
Herbed Crab Canape
Paired with Alpine Stream White Wine
"Kalbi" TenderBelly Pork Belly Croquette with Tik-Tik Sauce
Paired Isolde's Rapture Red Wine Blend 2016
---
Danny Vacca
Sous Chef
Mercantile dining & provision, Denver, CO
Autumn Salad
Cauliflower, carrot, fruition farms feta, red grapes, pepita & buckwheat cereal crumble, apple cider-carrot mousse
Paired with Mark West Pinot Grigio 2016
Pho Glazed Beef Short Rib
Puffed beef tendon, mung bean& bok choy salad, lime-fish sauce vinaigrette
Paired with Black Arts Cellars 2015 Le Diable Red Blend
---
Gray Tattershall
Executive Chef
Community, Lafayette
Butternut squash, Haystack goat cheese, green apples, kiwi, Benson ham and radish micro
Paired with Vignoble Gibault Sauvignon Sancerre 2016
Brie Pannacotta, 7th generation ribeye, duck confit onions, moxie croutons, and black truffles
Paired with Marrennon Luberon Red Blend 2012
Flourless chocolate cake with pomegranate seeds and mint candied kiwis with duck fat caramel sauce
Paired with De Novo Wines- Pinot Noir 2014
---
Joseph Antosiak
Cooking with Joe!
Six Serrano Smoked Pork BBQ Ragu with Wild Mushrooms & Pueblo Chilies, Mesquite Brown Rice, Crema, and Smoked Walnut Pesto.
Paired with Blanchard Family Cash Allen Claret 2015
Asian quinoa and brown rice salad with pomegranates, sesame vinaigrette, marinated shrimp, prickly pineapple sweet chili sauce
Paired with Prestige World Wines Unexpected Shiraz 2017
---
Nathan Keller
Executive Chef
Tiller's Kitchen & Bar
Winter melon and prosciutto di Parma compote, corn blini, house made creme fraiche
Paired with Maison CR Core d'Azur Selection Rose 2017
Seared lamb loin chops, tomato balsamic chutney, preserved lemon drizzle, brunoise onion, and herb
Paired with Ledson Sonoma Valley Mes Trois Amours Blend 2015
---
Jodie Valenzuela
Executive Chef
The Oceanaire Seafood Room, Denver
Duck Confit, Radicchio, Persimmon
Paired with Creekside Cellars 2016 Riesling
Tender Belly Pork, Spanish Octopus, Chicharron
Paired with Sea Shell Cellars- 2015 Balboa Reserve Tempranillo
---
Zuri Resendiz
Sous Chef
Cattivella Wood Fired Italian
White Snapper Ceviche with Avocado Leche De Tigre (Tiger's milk)
Paired with Oak Farm Vineyards 2017 Sauvignon Blanc
Slow Braised Lamb Neck over Butternut Squash Purée Finished with Truffle Spuma
Paired with Oak Farm Vineyards Petit Verdot 2015